Prefabricated houses are something that Europeans have been able to enjoy at a good price for decades. In Australia, it hasn't been the case. We just don't have the population density to get the amazing German, Norwegian or Finnish prefabricated houses over here. In the last couple of years though we have started to see more prefabricated and modular housing companies show up on the market. Even in the last couple of years, the number of companies that are showing up in search results has increased.
I've always loved the prefab houses that have shown up on Grand Designs and magazines (online and offline) over the years but never really considered them because we haven't had many options and the pricing really isn't all that affordable.
After reading about the Australian prefab company ArchiBlox in an issue of Monocle. I checked out their website and liked what I saw and decided to see what else was out there. They aren't specifically designed for off-grid but it wouldn't be difficult to modify to support the technologies and services for off-grid living.
To get an idea of what's on offer from the different companies I'll outline a house specification. The idea behind this is a nice two bedroom dwelling for a small family or a couple with visitors.
Requirements:
2 Bedrooms
1 Bathroom
Kitchen
Laundry
A deck as an option
Under 120sqm interior floor space, under 100sqm would be ideal.
Under $300,000 delivered
If there are some nice large windows or sliding doors would be a great addition. I Would also like to see some shared indoor outdoor space if possible.
ArchiBlox
ArchiBlox has a great selection of house designs across a range of sizes and prices. Based in Victoria, Australia they have got some pretty impressive stats. From their website
Our series of prefabricated modular homes have been configured to create a range of contemporary homes for exceptional value. Each home has the ability of achieving an 8 star energy rating with the architectural elements of space, form and detail. Designed. Built. Delivered in 12 – 28 weeks.
That is some very impressive specifications and the 12-28 week build time is great. After looking through their plans a few from a couple of series fit the above criteria.
There are two designs that meet or are close to meeting the specifications set out above, that is the Fox and Lennon designs. The Fox at 4.3m by 9.8m puts it in the range of a small cabin. Starting from around $166k AUD is on the higher side for the floorplan size, but still a nice design. The Lennon 02 at 4.5m by 18.6m on the other hand, is close to budget with a longer and slightly wider floorplan.
The Fox – by Archiblox

The Lennon 02 – By Achiblox
Website: https://www.archiblox.com.au
Modscape
Modscape, also based in Victoria, Australia, is a modular building company that use structural steel to create the shell and use structurally insulated panels claim a 12 week build time. They have a very large portfolio of houses but most of them are out of the budget. I did find a one that fits the criteria in a 2 bedroom design, although it seems small for the price.
Modscape is able to leverage distinct advantages when designing and building your new home, ensuring it is completed to the highest quality.
Below is a short video that provides an overview of the ModScape process that includes some great footage of the construction of their products in the factory. It's great to see the companies overview of how things are designed, selected, built and installed.
Website: https://www.modscape.com.au
Hoek Modular Home
Hoek Modular Homes is based out of Lawnton in Queensland, Australia and was one of the first modular house companies I've come across in Queensland back in 2013. It's nice to know that they have a nice attention to detail:
All homes are built at our Brisbane premises. We only have 7 homes under construction at any one time – which means we have the time for attention to detail for each home. Our tradesmen will work on your home from start to completion, including the team that comes to site to install your new home; this ensures that you are satisfied with the final result.
They have a very large range of houses and have nine different floor plans for the 2 bedroom options. Their prices are on the more affordable end of the spectrum and this is reflected in the more basic options and designs. Which in my opinion is fine if you want to get a nice prefab house on a budget in Australia. The Aspen 70 is a great 2 bedroom design that starts at about $133k.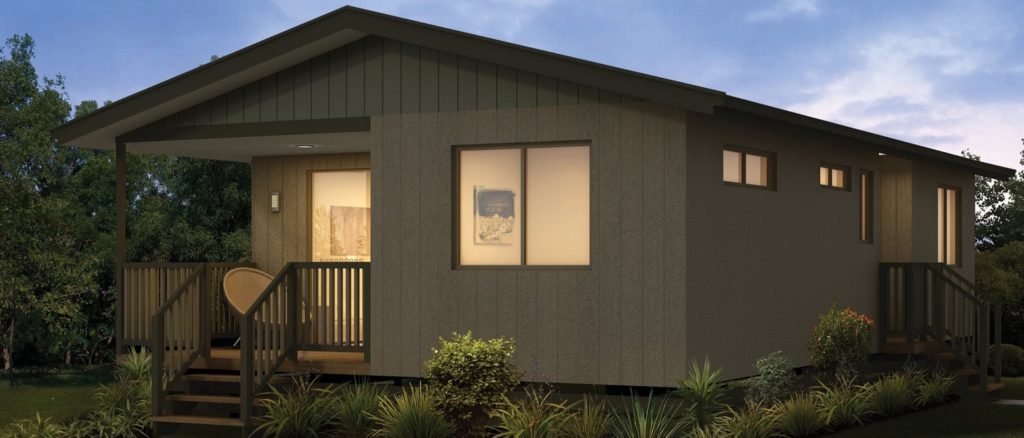 Website: https://www.hoekmodularhomes.com
Anchor Homes
Anchor Homes has a large selection of two and three-bedroom designs available with great rates. Their products are built using building modules and are transported from their 12,000sqm facility in Stratford, Victoria, Australia. The company has been providing building solutions to customers for 25 years with a focus on high quality at affordable prices.
At Anchor Homes, our unique prefabricated building solutions are suitable for a wide variety of housing projects. Our technology allows buildings to be delivered in up to half the time of traditional building methods achieving significant cost savings and a higher quality build finish.
They have a great range of two between homes and all eleven of their designs are within budget. They range in floor plan size of 63sqm up to just under 120sqm. It's good to see they have irregular floor plans that aren't the standard rectangle boxes. Some of their designs are like this, but others like the Hampton 12 that separates the bedrooms on either side of the living, dining spaces. This is a nice design for just over $150k AUD with standard inclusions. If you're in the Stratford area you can also go and check out their popular Suburban design on display. This is a nice two-bedroom design with a simple floor plan that would fit a lot of small lots and be easy to take offgrid. Smaller footprints means less resources making the offgrid aspects much easier to achieve.
Hampton 12 by Anchor Homes

Suburban by Anchor homes
Website: https://anchorhomes.com.au
Conclusion
Based on my discoveries there is quite a wide variety of different modular and prefab options available in Australia these days. I did find other companies but they were outside of the budget. The options aren't as amazing as the European counterparts but the Australian market is moving in the right direction. There are some great plans and designs available over here and the prices are within range.