In my research for smaller homes that are using innovative building materials and techniques, I stumbled across The Smarter Smaller Home by James Hardie. Some of you might know James Hardie as the manufacturer of Fiber Cement and other building materials in Australia. They designed a smaller, affordable home and constructed a prototype in a warehouse in Brisbane, Australia. The website has an overview of the project with a detailed case study outlined in their case study booklet linked at the bottom of the page.
Housing affordability in Australia and other parts of the world is fading fast with the cost of homes out of reach for many and it's getting worse every year. The Smaller Smarter Home is aiming to produce a decent sized home at an affordable price using good clean design. They focus on building materials that reduce construction times, waste and cost.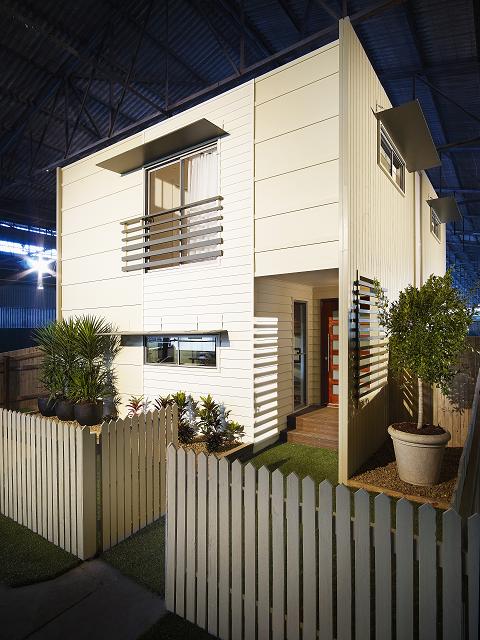 House Details
120 square meters
2 storey
3 Bedrooms
2.5 Bathrooms
Laundry
Rear entertaining deck
Eat-in Kitchen
7 meter frontage
9 meters deep
2400 ceilings
The design is using some very old and simple techniques such as the eat-in kitchen from the 1950s. There is no hallway on the second floor which is usually just wasted space in a house anyway.
Building Materials
There are a number of very innovative building materials being utilised in the design and build of this concept.
Sub Floor
The sub-floor is using screw piles which reduces the amount of excavation work as almost no prep is required. The screw piles go straight into the ground without the need to level the land. The posts go straight on top and only takes about half a day to do and a couple of contractors. As opposed to a cement slab that can take up to a week and a dozen sub-contractors to get it done.
Roof
The roof is using a product called Bondors Solarspan Roof Panel. This is a product that contains the ribbed roofing, insulation and the completed internal ceiling in one product. This reduces the time and costs for building the roof to just a day.
Cladding
The exterior cladding is a product called Scyon Linea Weatherboard. These are 16 mm thick horizontal weatherboard which comes pre-primed so you can put your top coat on straight away.
Decking
They are using ModWood which is a Wood Plastic Composite which I have discussed previously. It's a termite, weather, maintenance free recycled plastic and wood composite which is great for external decking.
Sustainability
The house has been designed using LED lighting and some very interesting ceiling fans from Fanaway that have retractable blades. Another cool feature is a main power switch at the front door that will power down all appliances that are in standby mode on a special circuit. They are also catching rain water which could be used on the garden. Everything was designed to use off the shelf measurements for materials reducing cuts and wastage.
Thoughts
The design and building materials chosen for this home are very modern and its great to see companies starting to realise that we all don't want McMansions. I might see if I can get a site visit in to take some photos. It was only announced earlier this year and some companies are offering them for sale.
In the brochure they do have a side note about a smaller 52 square meter home for a young couple and a modular home that starts at 100 square meters and when you need to grow you can put a second storey on.
It would be great if they released the 52 square meter place as a kit home. That would be an ideal solution. I don't think it would be hard to adapt the smaller version to run completely off the grid.
Images and photos are from The Smaller Smarter Home